June 09, 2020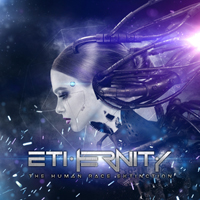 Initialization begins the epic saga with intriguing mystery, continuing the Ethernity - The Human Race Extinction album with the title track combining the solemn symphony with the inspired tunes of the singing lady, complementing them with chorales of adherents of the electronic era in the chorus.
Electronic shades envelop the symphonic intrigue of the introduction, then Mechanical Life drives the rhythmic piles of their way, dense and rigidly showing the tension of the procession, softening the musical shades with the tunes of the singing lady, but returning to the medium-tempo drive in the instrumental part. The Grey Skies continues the procession in the march of restrained mid-tempo drive, crowning the musical and vocals variations with the sparkling charm of keyboard passages and creating a romantic ballad in the chorus. Chime of acoustic guitar strings suggests a sensual ballad, which implements Beyond Dread composition, captivating with a waltz of a singing lady and bewitching musical melody.
The introductory symphonic intrigue of the Artificial Souls song precedes the inspirational flight of an encouraging drive that raises vocal charm on its wings. To the sound of the Redefined majestic symphony, the charm of the singing lady's vocals is intertwined in a duet with male vocals.The rhythmic procession of the droid army enters on the Rise of Droids combat march, continuing with a furious musical thriller on the verge of an average and fast pace, complementing the vocal part with chorales and symphonic charm in the choruses.
The keyboard solo inspires with the grandeur of musical motifs, then complementing the musical image of the Mark of the Enemy instrumental saga with a severe pulsating rhythm and artistic guitar solo. The Prototype further aggravates the influence of industrial colors in the sound, but the keyboard solo introduces a twist of romance anticipating the buzzing drive and the introduction of fierce emotional female vocals. Musical charm is complemented by thoughtful reflections of vocals, combining in the Not the End romantic ballad, but sometimes introducing whirlwinds of drive in instrumental bridges.
The magnificent artistry of the solo piano begins the construction of a cloudy castle of bewitching symphony of the Warmth of Hope dreamy ballad. The rapid whirlwinds of the sparkling guitar solo seemed to precede the development of a fast drive, but after dark turns of guitar riffs, vocal phrases Chaos Architect is riding on a pulsating mid-tempo march, the rhythm of which clearly shows a progressively broken rhythm and female vocals in the vocal part complement the background phrases of male vocals. After a viscous march with shades of unity of heavy blues, sludge and industrial Indestructible female vocals in a rioting mood of verses and returning to the motives of joining the chorus, the concept album is completed.