December 04, 2021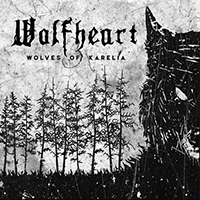 Guitar solos create unity with vocal tunes and general rhythmic of the Hail of Steel composition, taking away in fascinating wanderings through musical spaces of the Wolfheart (FIN, Lahti) - Wolves of Karelia album, setting charming variety by unity of folk motives and symphonic atmosphere in introduction of the Horizon on Fire song, then supplementing it by violent flow of raging drive.
The rhythmic, powerful and dense sound of the Reaper track sets a martial mood, combining progressive musical twists with the sound of a northern battle march. The Hammer continues a similar musical mood, beginning with the harsh musical beat of a battle march, accelerating rapidly with the introduction of the vocals.
The Eye Of The Storm acoustic guitar solo seems to anticipate and prepare for the coming fights and battles in addition to the keyboard notes, acting as a development of the musical unity of music and vocals, creating a peaceful pause and setting the direction of the main motif of the Born from Fire epic saga.
The solemn procession of musical valor anticipates the vocal addition of the sound of the Arrows of Chaos composition. The Ashes song closes the album with a combination of brooding and epic reflection.