November 21, 2021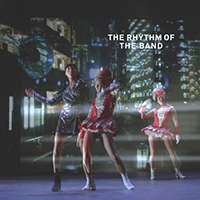 The musical romantic atmosphere complemented by the vocal sensuality captivates you in the strangeness of mysterious adventures by the sound of the Animal song. The Rise & Fall builds up the sound on alternation, inspiring the reassuring rhythmic sound of the continuation of the Arsenal (BEL) - The Rhythm Of The Band album with echoes of Tibetan musical motifs.
Even more enthralling in its pursuit of adventure, Wanderer's narrative combines an understated rhythmic sound with the ascension of the vocal duo and the sound of the saxophone in the instrumental bridges, ending with the mystical mystique of the Dugbe Or Mokola instrumental track. Then the sad sound of the Tension ballad gives some desire for peaceful reflection.
Slowly, thoughtfully, and deliberately, the sound of the Weaponry composition wisely walks along a peaceful musical path, elevating the vocal narrative to the pinnacle of musical imagery. The Eling Park song continues its leisurely march along the path of unhurried reflection, augmenting the musical sound with rhythmic pulsations that come to the fore in the instrumental bridges. The sound of the musical introduction of the Little Shaman Cub composition gives the atmosphere of a mystical ritual, and the sound of the musical story continues the atmosphere of ritual chants and a mysterious fairy tale.
The subdued musical mystery of the Eve instrumental track acts as an opening haze to the album's final song Nightfalls, in which the mystical atmosphere is complemented by piano solos and vocal phrases wrapped in a mystical musical background.