January 03, 2022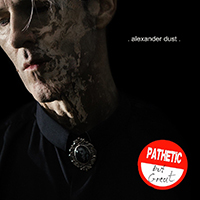 Inspirationally and mysteriously distant chorales and intriguing musical passages create a path for The Morning Sun vocal, then together with artistic musical variations fascinate the introduction of the Alexander Dust - Pathetic But Great album. Pulsating and rhythmic, the Now Watch Out song rolls in waves of its sound, complete with mysterious musical echoes. The music intrigues with the twilight mystery of the introduction, then raises the sparkling banners of the Naked And Torn romantic ballad.
The vocals and music of the Liquid Deadly Borders enigmatic song mesmerize with intriguing mystery and obscurity of sound, then drawing us to follow the Aglossia vocal story of the captivating storyteller. The I Dream Shadows composition begins with a sparkling guitar solo, then reveals the leitmotif of the musical narrative.
The danceable, rhythmic musical whirlwind of the Strange Spring song takes you on a dreamy journey. The Valentines For Memories romantic ballad enchants with sensual echoes of love. Mysterious vocal meditations form the basis of the sound of The Party's Over song, which anticipates the final sound of the Pathetic And Great title track, which sets the final point in the album.