February 28, 2023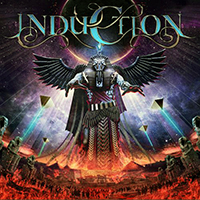 Symphonic A Message in Sand instrumental inro begins the musical journey of the Induction - Induction album with distinctive reflections, further complementing the enchanting melodic variations with inspired vocals phrases intertwined in the impatient flight of the By the Time song.
The vocal aprtium is not brought to the forefront of the Pay the Price composition after the charm of the symphonic introduction, which then envelops the vocals narrative with a sparkling veil and returns to the foreground in the instrumental bridges. The Outwitted Consecration epic saga begins with background chorales, then weaving a charming lace of musical charm with unhurried musical variations combined with a vocals fairy tale.
Musical passages weave a sparkling charm of mesmerizing melodic unhurriedness, supporting and accompanying the vocal story of the Hiraeth musical fairy tale and enchanting with the guitar solo of the instrumental part, then mesmerizing with the intriguing mystery of the Mirror Make Believe (My Enemy) romantic ballad.
The guitar solo of the introduction weaves the musical canvas of the At the Bottom main motif, according to which the vocal part marches thoughtfully and majestically, combining with musical passages in a single bright musical whirlwind, then The Riddle weaving artistic musical lace around the twilight mystery of the vocal story. After the symphonic suite of the introduction, A Nightmares Dream bard saga combines musical charm with a vocal fairy tale in a single musical artwork, rolling waves of musical drive, crowned with vocal phrases in the pressure of the My Verdict composition, driving the rhythmic step of an epic march in the verse, then raising sparkling banners of musical melody and bringing notes of some bitterness to the vocal phrases. The twilight musical reflections of the Sorrows Lullaby song conclude the album's musical narrative with an exciting mix of music and vocals unite in a musical procession.