November 25, 2022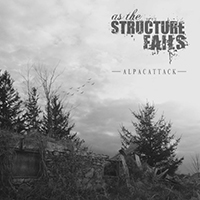 The musical mystique of the Big Shot instrumental track serves as an intriguing intro to the As The Structure Fails - Alpacattack album, then develops the opening motifs in combination with a vocal addition, varying and alternating screaming, growling and harsh vocals in the sound of the State of Confusion song.
Persistently, confidently and persistently, the vocal part is brought to the forefront of the musical image of the Alpacattack title track, captivating to plunge into bursts of emotional brew and feel this magic potion, emphasizing and initiating rhythmic pulsations in the intro of the (De)Generation song, then artistically and progressively varying the rhythm, tempo, sound and musical transformation.
Fascinating with the fascinating development of the When Karma Hates You musical tale, the music and vocals captivate with the intriguing mystery of the musical canvas, weaving the progressive lace of the musical mystery of the A Fly Caught in a Mouse Trap composition, enveloping the emotional vocal narrative.
The rhythmic tread of the Divine Unity battle march combines with vocal pressure in a joint musical stream of unyielding drive, paving a joint musical path to the chosen goal, accelerating the tempo and impatience of sounding in the impetuous whirlwind of the Pacifist song intro, then focusing musical attention on vocal experiences entwined with bright melodic musical veils. The unity of musical power and vocal fury completes the album with an uncompromising Pure Devastation musical thriller.