December 20, 2020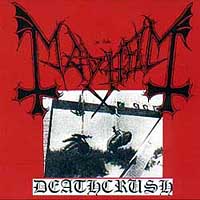 Drum rolls and echoes of shamanic rituals, as if anticipating changes and rituals, the Silvester Anfang begins the musical narration of the Mayhem (NOR) - Deathcrush [EP] album, then developing it in vocal chants and rather artistic and progressive breaks in the rhythm of the section - either exploding with an unrestrained whirlwind of impetuous drive, then the Deathcrush title track is introducing pensiveness and melodiousness into the instrumental solos of pensive bridges.
The sound of the Chainsaw Gutsfuck composition is transformed by a mid-tempo pensiveness, marching in a harsh march, raising emotions and feelings in a vocal part, entwined with solemn veils of musical essence. The Witching Hour (Venom cover) pays homage to the legendary band that gave birth to a musical style with the title of one of their songs. The music of this song retains the swiftness and drive of the original, changing the style and sound of the vocal part.
The Necrolust harsh passages of the epic procession pump up the rhythmic sound of the battle march, then surging with frantic acceleration with demonic vocal screaming. The final composition of the album (Weird) Manheim begins with brooding keyboard passages with a leisurely guitar solo, but then hardens and becomes a harsh demonic thriller.