February 28, 2021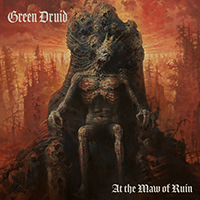 The Forest Dark focuses, persistently and painstakingly develop musical features of the main motive. Then the vocal party begins mysterious headings of a singing lady, combined with twilight musical passages, concluding vocal phrases with a gloomy mystery. But after reflection, transformations of musical essence and musical variations in multiple images, the first composition of the Green Druid - At the Maw of Ruin album is completed with severe screaming.
The mystical mystery of musical tuns slowly and fascinatingly unwinding the musical flywheel of the End of Men main motive, painfully and basically resisting the upcoming entry of vocals. But vocal phrases anticipate musical meditation, muffled and mysteriously gluing with vocal reflections in mystical mystery, creating musical lace epic saga. But then the vocal party of the song is hardened in a fierce procession of harsh screaming.
The Haunted Memories rolls into the joining the fascinating fairy tale, which continues to the soft charm of vocal phrases of a singing lady, beginning the charm of forgotten legends and fascinating with melodious echoes of ancient prophecies. Twilight mysteriousness envelops vocal phrases unclear mysteriousness, combined with the vocal duet of the male and female vocal in lace A Throne Abandoned unclear mystical fairy tale.
Desert of Fury/Ocean of DespairThe musical narrative of the 5th composition combines such a non-peculiar number of various stylistic trends and composite shades that it is unrealistic to describe its atmosphere and impressions from listening to her atmosphere. Especially it should be noted the duo of the male and female vocal, not clean - but growling and screaming. The Threads completes the album to the fascinating haze of minstrel ballads, in which the singing lady hovers like a mystical ghost of an imaginary lady.