March 13, 2020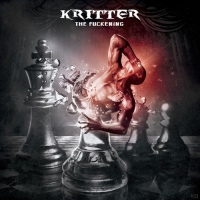 A whirlwind of rapid drive flies with an unrestrained stream of musical fury, Your Sacrifice vocals phrases at first combine emotion and harshness in a harsh, then raising the banners of melodic charm with sensual inspiration. Pretty Harlot continues the Kritter - The Fuckening album with pulsating rhythm, introducing shades of artistic intrigue into the introduction, then introducing emotional artistry into the vocal part, varying and transforming the rhythmic structure of the composition in accordance with vocal changes.
Beginning with a mysterious musical narration, Ashes of a Life marches in the epic twilight of the heroic saga, weaving the mysterious thoughts of the clean with the emotional screams of the harsh vocals. Fierce vocal phrases intensify the severity and power of the rhythmic march entwined with severe musical covers, but then the emotional phrases of clean vocals rise to the top of the musical image of the Duality composition.
Rhythmically and densely densifying the rhythmic component of the sound Live in Heaven, Live in Earth then builds a compositional structure on the alternation of vocal styles, entwining the axis of the guitar riffs of the main motive with bewitching vortices. Viscously and painfully marching in a thoughtful procession of a marching mid-tempo march Behind Your Mask adheres to the peculiarities of the album's variation of vocal stylistics.
But after the dense malleability of the musical sound, the buzzing sting of the guitar solo of the 8 Millions of Gods intro pierces the musical dusk, but then the vocals return the variations of the medium-tempo narration, especially highlighting the monologue of clean vocals, preceding the blade of the guitar solo of the instrumental part. Empty River completes the album with epic anthem that honor, respect and deserve praise to the legendary heroes of past ages.