March 01, 2020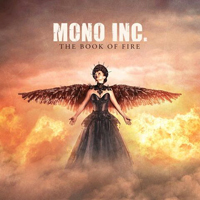 The title track begins the Mono Inc. - The Book Of Fire (CD1) album with inspired music, complementing the male vocals with female backing in the vocal part. Electronic motifs and musical charm envelops the Louder Than Hell vocal phrases, which are in doubt, with a bewitching sound. As if continuing the previous song Warriors envelops the listener with melodic lace of a romantic ballad.
The participation of the legendary musician in the Shining Light (feat. Tilo Wolff) composition captivates with bewitching melody and brings the originality of the vocal part. After an intriguing and stern verse, female and male vocals are intertwined in the Where The Raven Flies chorus in the charming dance of the duet. Beginning with exalted chorales, The Last Crusade then it braids the vocal part with epic musical passages, developing in the Death Or Life composition the musical motive embedded in the previous song.
Romantic musical passages envelops Nemesis vocal doubts with a lace note of chime of an acoustic guitar, weaving male and female vocals. By hardening the vocal part and escalating the wave of restrained drive, the Right For The Devil (feat. Tanzwut) transforms the sound of the album. Swiftness and haste lead to the Run For Your Life high-speed race, then the The Gods Of Love rhythmic march with a certain hard blues influence brings the album to an end, emotionally bringing the vocal part to the forefront of the musical image, repeating the What Have We Done title over and over again. A variation on the release of the The Book Of Fire (Single Version) title track completes the album.
In addition, this digipack contains 2 discs - Mono Inc. - The Book Of Fire (CD2) (Instrumentals) embodies all the songs without vocals.