April 22, 2020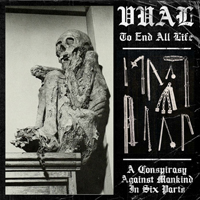 The intriguing mystery of the introduction of CancerBeast song continues with the sage's speech, then the music rolls in painful waves of obscure darkness, somewhat accelerating the pace with the introduction of vocals that appeal to the spirits of their ancestors with a creaky bitterness, weaving together the gloom and despair at the beginning of Vual - To End All Life album.
A round of guitar solo envelops in a mysterious atmosphere, but the Spreading The Poison vocals add a viscous severity, slowing down the pace of the musical narration, but then exploding with twilight rage. Vocals come to the forefront of the Nethescurial musical image, captivating musical passages along the indicated path of a leisurely march, spreading through the viscous darkness of a dark anthem.
Exploding with a stream of furious drive, We Are The Vanguard complements the sound of the album with a furious musical thriller, however, preserving the twilight mood and certain shades of musical mystery. The vocal again comes to the fore, occupying a dominant role in the The Human Law composition and rolling in pressing waves of musical burden, stubbornly and persistently pumping viscous waves of a leisurely drive.
A leisurely procession of the musical atmosphere of the final composition of the album Finally, Fields Of Silence... envelops with thoughtfulness, enveloping the mind with notes of doubt and complementing thoughts with the influence of darkness and despair.