October 28, 2020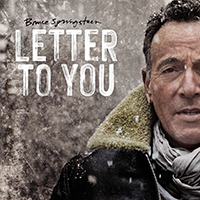 The One Minute You're Here acoustic tenderness of soft guitar tunes and brooding vocal phrases opens the Bruce Springsteen - Letter To You album with a leisurely romance, then unfolds the more emotional inspiration of the vocal narrative in the title composition. Developing an energetic emotionality, the Burnin' Train song crowns musical and vocal fragments with covers of keyboard passages. The b>Janey Needs A Shooter places great emphasis on the greatness of the keyboard, complementing it with chime passages of acoustic guitar strings and romantic tunes of a sublime ballad.
Guitar passages and vocal phrases are intertwined in a mesmerizing dance of the Last Man Standing fascinating motive. Slowly and thoughtfully, The Power Of Prayer develops the main motive in the introduction, then exalts emotional greatness on the banners of the vocal part. The piano solo precedes the vocal intro, then combines with the guitar tunes to the House Of A Thousand Guitars track's music. Memories of a wise old man about past wanderings and adventures create the Rainmaker song's atmosphere of comfort and peace.
The storyteller's dreams form a melodic canvas of the If I Was The Priest fascinating story. Adding sparkling notes of drive, the Ghosts song lifts bright musical lace into the vastness of dreamy inspiration. Wrapping the symphonic lace of a romantic ballad around the vocal phrases the Song For Orphans complements the vocal phrases with backing vocals. The I'll See You In My Dreams track ends the album, inspiring with encouraging vocal tunes.