Text for song: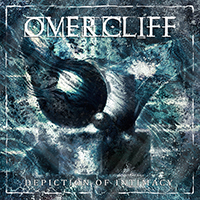 All flows into parallel veins.
Of earthly flesh the heavens are made.
Theogony occurred in a drop of amber.
Tonight I feel eternal.
Tomorrow I might feel ethereal.

But never quite satisfied
of pictures, of scissors,
of stained glass, of mirrors.
My nightmares are full.
Heart.
Hurt.

Blackened eyes, enslaved,
under a state of entropy,
conceal the irrelevance
of my existence.
Lips of sorrow,
Nero's pride and consequence,
determine the insignificance
of my creations.

It's irreconcilable.

Devoid, this world is,
of signs that I might exist.
I'm bound within my own reflection.
Vacant, my mind is,
as my dream (only) consists
of distorted images of angels.

Heart.
Hurt.
Epiklesis.
Paraklesis.
Paralysis.
I am the irrelevant center of the universe.

There is no difference of honour and glory,
only battle matters for real.
There is a place between war and murder
where our demons are waiting.

If this is hunger
then what is anger?
As closer to the flower,
so closer to the thorns.

Sun is not revealing the truth.
His light burn your eyes and blinds you.
Darkness is still rising,
you can see is still haunting you,
can't do anything but
keep walking straight ahead.
Dance with me my little child
in the ways of oblivion.

World is so different for those
that their eyes can see,
but do not controvert for my faith.
You'll never know how i suffer for her.

The earth shall melt.
The oceans will rise.
The skies might fall
but they will come...