Text for song: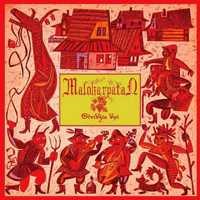 Užitečná vec jest víno, když se skrovne pije,
srdcu veselosť dodává, údy posilňuje.
Ale bez spúsobu pité víno v zbytečnosti,
nakloňuje ku nemocám, i ku bezbožnosti.
Chladí zvenku priložené, vypité zehrívá,
obyčejne k neužitku mladým lidem bývá.
Jeden pohár je ku zdraví, druhý k veselosti,
tretí k opilstvu pomáhá, čtvrtý k bláznivosti.
Když si mladý, radím tobe, zdržuj se od vína,
neb i starým z neho prišla ku zlému príčina.
Když skrz vúňu, aneb barvu te ponúká k chuti,
merkuj, abys' jed nevypil k zlému upadnutí.

English:
ABOUT WINE, AS THE ERUDITE HUGOLÍN GAVLOVIČ FROM HOROVCE HAS SPOKEN
Wine is a rewarding thing if drank modestly
It delivers merriment to the heart, strenghtens the limbs.
But wine drank without manners, in futility
pushes towards maladies and impiety.
It cools down when attached from the outside, warms when drank
Generally is disservicable for young people.
One glass is for health, the second for joyance,
the third helps to drunkenness, fourth to feyness.
When you are young, I recommend you, abstain from wine,
for even the old ones have come to mischief through it.
When by bouquet, or by colour it incites you to taste,
beware not to drink poison for malefic decay.