Text for song: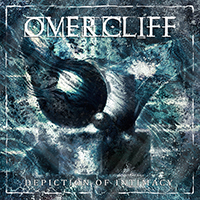 The formation is done in minds ways.
Errors scattered all over creation,
reprogrammed, to be led in salvation.
Procreation reborn to redeem...

Storms of grace howl
as ether figures fall.
Sunfire kneels before the lightlord.
Spears of flame lead the way to Sirius.

Wounded galactic masses
bleed and vomit angelic races.
Sinful frowns are carved on guises
baptizing contrast into malice.

Obeyance is falling
through the will of the soul.
Reanimation for the life eternally,
as the bringer of light comes
upon the sky!

In a desperate amending strain
the gates of eden are locked in vain.
Divine cells absorbing the pain
of formations born out of bane.

Oh, Lord of light and gloom,
embellished golden realities I witness,
turning into blackened feathers,
as you crawl among the labyrinths.

Shine , elevate the banners
of the forgotten repudiation.
As wicked flowers blossom,
over the extending gardens.
And the river turns green
and flows throughout infinity.

Conjured from 8 heavens above,
scattered over seas and lands,
they hound errors,
as they fall from the stars.
Their form, starspawn.
Error, in their form.