Text for song: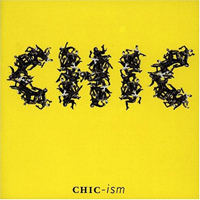 Ladies and gentlemen: Chic!

A show of hands, I thought so
Another band, I don't know
As good as this one you can't resist
One jam we'll pay, we'll rock to the break of

Day and night, we'll keep you working
Take my lead, your head will be jerking
Up and down, you'll lose control of
The moment you get a load of Chic

Chic, Chic
Chic
Chic, Chic
C.H., C.H.I.C.

Crisp cliches and witty words
Vocalists that chirp like birds
Rhymes topped with sweet harmonies
Magic fingers on the keys

There's more to us than meets the eye
Break it down and we'll show you why
Love what we do, we do you 'cause we love it
Get you so high that you can't rise above it

Chic

Chic, Chic
Chic
Chic, Chic
C.H., C.H.I.C.

Put your hands together one time
For the crew that brought you good times
Don't miss a beat, the flow is complete
The horns will blow you out of your seat

A friend by your side, make sure he's the dancing type
Right, to dance all night
Straight to the main floor
Like an apple hard-core

Much more in store, I'm sure you'll adore
What's the allure that you can't ignore
Could it be the things that I'm saying?
Could it be the strings playing?

Moves your soul to a new height
It's a good feeling, yeah, damn right!
I know it's the combination
It's the sensation

Back on track, it's about to happen
You know the runners' check out the rappin'
Energize, once you feel the funk
Just like Jordan before a slam dunk

Perfection, and we're on the brink
A live band, and we're all in sync
Sister to sister, bro' to bro'
So feel the flow and enjoy the show

C.H.
C.H.I.C.
C.H.
C.H.I.C.

Wait a minute!

Work hard and don't mind the overtime
Feel the rhythm, watch the heat climb
It builds just like a skyscraper
It won't taper, the rest are fakers

Check your butt, you know you can't sit
Chic is live, on the real tip
Tighter than a strongman's grip
Make you hop and bop 'cause it's hip

The best band you could ever find
Eureka, this groove's a gold mine
A new sound and it's called Chic-ism
Don't sweat it, get lost in the rhythm

Chic

Chic, Chic
Chic
Chic, Chic
C.H., C.H.I.C.

Chic, Chic
Chic
Chic, Chic
C.H., C.H.I.C.