May 15, 2016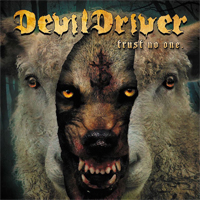 Question about the way of life asked by someone out of there.
The eternal answer to this question - DevilDriver - Trust No One.
Pestilent guitar intro opens the way for the Testimony of Truth guitar prevail composition at all, their parties enslaving all other melodies forcing they to obey its whims! Impulsive, unpretentious entry opens Bad Deeds to reveal any secrets, that happens in volatile pace, accelerating then slowing to do narrative more deliberate for other minds.
Slowly, rhythmically, unhurriedly begins guitar by strokes the strings taht track My Night Sky to regain than into manifestation pace comes to the end.
Calm start of This Deception accepts than different shapes, variated by pace and vocal parts. One can hear something like blues or ballad, another one - raged harsh torned metal!
Oriental folk tune starts the Above it All than rhythmical blows smash down all around, blows and strikes combines instrumental rage and vocal fury in the same impulse!
Intriguing, mysterious Daybreak mysterious in expectations,someone is waiting for the night arrival, someone on the contrary afraid of the night and see their nightmares in it!
Title track holding out the answers for all questions, but you have to Trust No One! Various answers are given in different ways, slow and consistant, next one - furious'n'harsh. And that changes a lot of times- trust no one, they said!
Thorns followed by the blows, that destructs solid monolith of mind in the Feeling Ungodly. Strikes, blows, smashes - there's a lot of names of this powerfull combinations of vocal fury, supported by the thrilled instruments.
Started like sad ballad about past times, Retribution raises its pace after the intro with the implementation of guitar power and various drum perties. Ends like harsh confession!
Melodic, lyrical intro intrigue so emotions reachs the boiling point at For What It's Worth. Vocal carries his canvas so that the instruments follow his instructions, like rats go for Piper 'till the calm finish.