March 11, 2017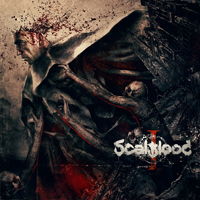 A frenzied indignant drive Scalblood - I adds up with gentle fascinating melodies !
Furious, intransigent drive of Circle combines a pleasant, sensual melody with the insistence of powerful melodies in a single stream. In the instrumental part, the keyboards introduce a mysterious atmosphere, thickening the shades before the final chorus.
Powerfully, rhythmically starting, Agony accelerates its pace, gloomy vocal phrases implacably and persistently overwhelm the ordinary frames. Chorus in ragged broken rhythm, over which hovers a wonderful keyboard motif, sets the stage for future alarms.
Soft, mysterious, scrupulous melody begins House of Broken Mind, creating a basis for further development of the main motive. Then instrumental fury breaks the shackles, dispelling all kinds of restrictions for its drive, gloomy and angry while continuing to develop the mysterious melody, complementing it with more shades.
Fast, swift, inevitable Virus follows the path that is familiar to it, infecting everything around with its influence.
The mysterious motif creates a foggy atmosphere of an old legend about The Dragon. Developing unusual dark melodies, the sound pushes the keyboard passages to the cutting edge in instrumental pieces, following the signs they indicates.
Mysterious tunes are combined in a foggy atmosphere surrounding The Temple with vortex of melodic riffs, combining in a mystical impenetrable haze.
The gentle, soft and sensual passages of the piano create dreamy thoughtfulness in Insomnia (intro). Continuing in Insomnia, fiercely thickening the atmosphere in a gloomy but so charming basic motif. Further, the jagged rhythm captures in so furious drive, creating mysterious mysticism by sublime keyboards inclusions.
The fascinating The Transmigration of Souls completes the album with its breathtaking, charming sound.