August 21, 2020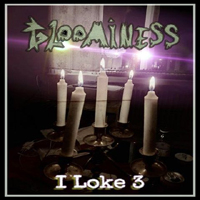 A viscous and onerous 1920 Drunken musical narration, complemented by saddened vocal reflections, begins the Gloominess - I Loke 3 concept album darkly and thoughtfully, each song titled with the year of the decade. The next composition consists of a dilogy, starting with the impetuous drive of the 1921 Green Tape Part 1 high-speed musical race. Darker and more viscous sounding 1922 Green Tape Part 2 guitar riffs are complemented by a playful dance of a slower rhythm, rolling in circular turns along with the covers of guitar twilight.
Vocal phrases intertwining the dominant male vocals with the background female vocals begin the composition by repeating the 1923 I Got Dead People In My Head title over and over again, retreating with the gloomy doubts of the chorus before the inspired tunes of the verse. Fiercing the stream of musical drive the 1924 The Of Off Odd I track combines rebellious guitar sounds and emotional vocal tunes with percussive cymbal chimes. With a pulsating rhythm, the percussion drives the 1925 To Dark To See To Weak To Be musical narration, crowned with vocal experiences.
Whipping up rebellious waves of musical resistance, the vocal part comes to the fore in the sound of the 1926 Chrome Homos composition. 1927 I See Jesus The Devil immediately starts with a vocal recitative, singing the song's name in the chorus again and again by a crowd of adepts. The vocal duo dominates the sound of 1928 Piss On Your Grave song, the music of which takes on blues shades. Whirling the whirlwind of drive 1929 Frizzle Frizzle concludes the album with an energetic flow of music combined with emotional vocal phrases entwined with guitar passages.