September 29, 2017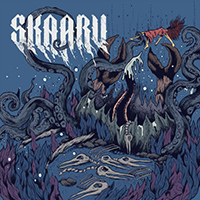 A viscous, stringy title track's introduction transforms to the energetic musical stream, vocal overhead broadcasts its emotions, then the musical image fills with emotions starting Skaarv - Prey album. Then the composition is transformed into romantic dreams, combining in a variety of diverse musical genres and styles.
Confession does not perpetate hasty bustle, jerks from side to side, sounding Confessions of a Tongue Ripper concentrates the significance and frankness of confessions, the soul's breakdown is expressed not by rapid jerks, but tense vocal and musical sound.
The timeless spirit of rock'n'roll, combined with the influence of medieval motifs, begins a fairy tale about Gevaudan beast, then becoming more typical for the style of the composition, although the vocals tend to raise the importance of the legend to the peak of consciousness Softly and gently meditative intro creeps into the Culling in the Mist music. The band continues to experiment with stylistic inclusions, this song clearly feels the influence of doom metal. It should be noted that in this composition the experiment is magnificent and very successful, leaving the best impressions.
Continuing this kaleidoscope of shades and variety of forms Mirror partly plays out the shades of the previous composition, but gives it a shade of a sombre brooding romance with blasting harsh vocal.
Ballads and romances of medieval minstrels are embodied in White Moth unforgettably, brightly and in a very memorable musical image.
After the thoughtful and romantic melodies in Herald of Lies the power and drive are transformed, turning into confident rolling waves of musical celebration.
Slowly, with a restrained and thoughtful start, Buried in the Sea then pulsates like the heartbeat of an entire ocean in which restless souls searches for peace of mind, not able to rust in peace.
The thoughtful atmospheric romantic acoustic acoustic outro Horizon completes the album, bringing a wave of inspiration and tranquility.