August 14, 2019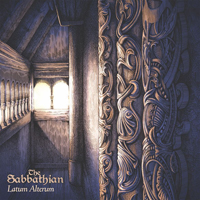 The muffled prayers of a nun singing with Requiem... inspired prayers open the gates of the The Sabbathian - Latum Alterum album, then the singing lady comes to the forefront of the musical narration, enveloping her romantic prayers with the twilight shawl of the ghostly tunes of music of the The Brightest Light composition.
Thoughtful tunes and doubts of the vocalist comes to the forefront of the Liti Kjersti musical narrative, shrouded in musical musings intertwined with vocal phrases in a gloomy, painful march. After suffering and emotions, the music retains the same twilight, gloomy and painful atmosphere, but female vocals raise the banner of grandeur and inspiration to the top of the dark anthem, crowning the sound of the Head of a Traitor composition with its sparkling opera phrases.
Condensing the musical image to a dense, stubborn and severe pulsating march, the female vocals of the One Night of Cruelty composition envelops a severe rhythmic musical trend with bewitching and spicy oriental shades.
In the vocal part, a bewitching duet is formed, first bringing male vocals to the front edge of the Embrace the Dark compositional essence, then weaving a bewitching musical lace from the alternation of male and female vocals and their duet. Particular attention should be paid to the majestic and mesmerizing guitar solo in the instrumental part.
The album closes with the Evig Hvile composition, thoughtful in its mesmerizing symphonic touch, in which the vocal part removes English-language lyrics and changes the language of the text to the native language of the group.