August 13, 2016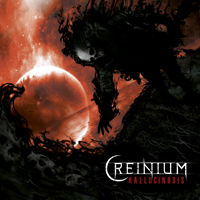 See someshing? Or just seems to be? Are you sure? Or not - that's just Creinium - Hallucinosis !
Fabulous intro with title track oblivious subordinate all of us with Hallucinosis as itself as well!
The thought does not tolerate deviations flies in polynyas preferences carried by the perception that Seams, that feels as great opinion. The sudden development of thought, belly protruding through the breakthrough of the universe!
The idea did not go away, but looking consciousness in spite of attempts to scrat, it catches the Astral Strain in its tries! Ragged mode steep quest - but there is no way to reconciliation!
Fisted classics begins The Ophidian Heir that takes us into the pensive motif, reminiscent all the past, then the instrumental party breaks this combination.
Practice the thought begins to warm up the Vigilance keyboards idea spreads on one dish with vocals, they are focusing their thoughts and put them together in a flying cloud.
The piano dominates his will, enslaving consciousness in anticipation of the Passage To An Altered Portrait, clearly delineating its shape and features, but then the villain and sublimating the entire possibilities!
Doctors are not go home, they are working on the Conscious Eclipse. established dreamy gulp with en increadable burst!
Buy the machine God, Solarbound Colony try to do that, from melanchonic ballad through mighty and powerfull tries as well!
Thoughts no pacify, promoting with its way and own selection, The Diminished Perception appeals and turns into a consciousness of the characters are destined to return...
Heavier combining nervous giddiness and methodical confusion and vacillation Prometheus Through Immolation composes its own way into that workpath!
Brief intro Compulsive Transition discribes further battles with the... God Monument what a God?! What monument! Nervously rush from the frying pan into the fire, light, fire, campfire. A lot of sounds - you have to choose! Not the worst end, but - one more time (jr few times later) you have to listen all album! Argh!