February 13, 2018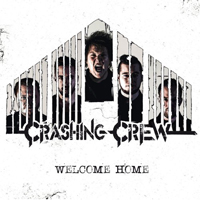 The title track begins the Crashing Crew - Welcome Home album with an unrestrained wave of drive in the verses and lyrical reflections in the choruses, culminating in an energetic continuation in the next twists.
Exciting melody develops into the Fanatic theme main motive, appealing to vocal meditations and rushing in impetuous impetuous impulse to the chosen goal, sweeping away any countermeasures on the way. But in the choruses again returning to restrained reflections.
The motive pulsating in the obscure twilight creates an anxious ballad Sorry You're Not, the vocal phrases of which are surely trying to prove their innocence to the events that have occurred.
Drum solo starts The Same returning again in the instrumental bridges, vocals nervously and anxiously trying to dispel the surrounding images, dim his way past the ghostly illusions of unclear imaginary temptations.
Vocals playfully enters, then Scream Out The Pain energetically and confidently directs the flow of drive into the laid channel, in choruses returning notes of dark playfulness in vocal phrases.
The album continues with an atmosphere of romanticism, beginning with a lyrical and calm ballad Rise Again enveloping in tender and sensual reflections, then giving them the enchanting power of dense instrumental bridges. These romantic passages appear embodied in the Twisted confession, honestly recognizing their sins and failures in choruses, discussing and exploring them in choruses. The subdued meditations of Until The Sun Rises intro turns into a bright and powerful musical stream of instrumental extravaganza, theb retreating for vocal revelations, returning again in bridges and choruses.
The last album's track Showdown completes lyrical atmosphere with its mysterious motifs that are interwoven into diverse musical palettes, combining dreamy vocal reflections with notes of emotional harsh, rapid musical drive of couplets, lyrical romance of the bridges and the union of all these variations in choruses.