October 10, 2017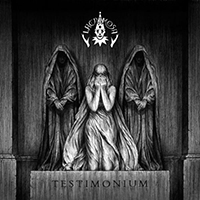 A lot of votes appealing to the beginning of song Wenn unsere Helden sterben and the Lacrimosa - Testimonium album, which has a second title, "Requiem in four acts" - dedicated to three musicians who had a significant influence on Tilo Wolff personaly and music in general - David Bowie, Leonard Cohen and Prince.
First act starts - initially, the violin orchestra envelops the vocal part with a romantic atmosphere, then from time to time the music is swept into the heavens.
The chimes of the bells, the sublime solemnity Nach dem Sturm envelops with the sparks of clear sunlight, crowning the triumph of the symphony with a magnificent musical extravaganza.
Calm and muffled symphony of Zwischen allen Stuhlen starts second act, intro is replaced by dancing classic motifs, jumping to the beat of the vocal part. But then the orchestral celebration again comes to the forefront, integrating with the dancing motifs into a single whole.
A thoughtful, sad ballad Weltenbrand reflects on fates, stumbling blocks in the chosen ways, whether they are correctly chosen or fundamentally wrong.
Calm reflections Lass die Nacht nicht uber mich fallen combines with acoustic instrumental passages, deliberating leisurely and restrained. Closer to the end, an orchestra joins the acoustic guitar, creating a wonderful tending romantic atmosphere. The music becomes more rhythmic, introducing a note of drive in third act. The main motive of Herz und Verstand pierces the entire composition enveloped in charming symphonic passages, it seems to travel through time as a memory of the wanderings of medieval bards.
An obscure twilight envelops mysterious Black Wedding Day, muffled phrases with an obscure mist, full of doubts, evoking various interpretations. This song begins the English-language part of the album.
In My Pain female vocal enters the front edge of the musical image after the duet of Anna and Tilo in the introduction, romance comprehensively envelops the atmosphere of feelings and emotions. Last act includes Der leise Tod pensive, muffled, strict reflection in a whisper about the affairs of the past, recalling lost opportunities, unfulfilled dreams and shattered feelings and the title track Testimonium crowning the whole album in which quite unexpectedly intertwined as avant-garde and industrial motifs with the leading role of keyboards, and harsh doom metal trends with rough riffs and harsh vocals phrases, dressed in the funeral attire of classical arrangements. Monotonous and depressive, it appears as a monumental tombstone with solemn edification of the descendants on it.