April 08, 2017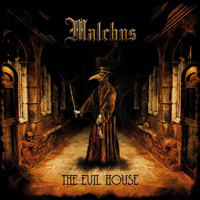 Stories and legends create a wonderful, so exciting atmosphere among the Malchus - The Evil House walls, the changing image of which will appear in the new appearance again and again!
The composition begins violently and furiously, rough nervous vocal phrases disperse tranquility, introducing tension and anxiety. Before meeting with The Enemy No. 1 you need to concentrate, the instrumental fracture raises a tranquil and ornate melody with thoughtful reflection to the top. But the composition ends with rage and anger, anticipating a pensive, thoughtful speech.
Power and energy are exerted in the dark whirlwind of grim and intense music, the drive of The Evil House was complemented by nervous vocal. Then, from tact to beat, the tempo changes, revealing all the sides of the musical image, so diverse and polysemantic. In the instrumental solo, keyboards passage comes to the fore, inspiring a subsequent rush, over which it will ascend like an angel wings.
Gloomy, eerie musical moves, turning the composition into a gloomy determination of 77 times, breaking into rapid rushes, then slowing down for the resolute vocal speeches. Ornate, complex and illusory guitar riffs braid this musical fairy tale with a wonderful pattern. Starting with a gentle romantic ballad Eyes Open saturates the sound with powerful whirlwind drive, again turning into a lyrical narrative. But the driver rises, like a formidable dragon, exhaling the fury of a musical fire, sweeping away any resistance, capturing an energetic journey and exciting adventures. But the romance will return to the instrumental solo, competing with the power till the end of the song.
An energetic drive takes possession of the musical canvas of the From Dust composition, confidently and persistently moving along its path, until the melody of the church organ replaces it with its goodness. Then drive and keyboards motives are combined in a single stubborn, powerful stream.
The cosmos broadcasts a fascinating, changeable complex melody, paying homage to the Mother of all living, intelligent and beautiful.
The blade of the Tripudium leitmotif pierces the whole composition like an irresistible force, despite the changes in rhythm and the change of the vocals tones.
Vocal persistently, repeatedly and confidently repeats But Deliver Us, music is hovering with foggy whirlwinds over which a keyboards motive is hovering, like light clouds over a barren, wasted earth.
The viscous fog of the guitar riffs is sure, but slowly creeps to the Creed, in the fog signs melodious riff and veil of keyboard passages covers it with its intelligent brightness.
An intriguing, fascinating instrumental saga Winter completes the album with its breathtaking and unforgettable sound.