April 12, 2018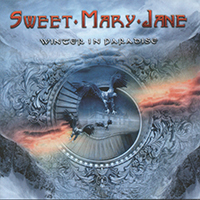 Guitars create the base, the keyboards supplement inspired reflections on the subject of adoration, starting the Sweet Mary Jane - Winter In Paradise album with an exciting mid-tempo composition Fire In Your Eyes, overflowing with romantic reflections. The fog of thoughtful reflections envelops No Retreat, No Surrender vocal phrases with the vague ghosts of unknown spirits, casting a restrained romanticism. The title track Winter In Paradise continues the style of this composition, bringing keyboards passages to the front edge of the musical image.
A bright wave of discreet drive Madeleine song rolls through a wave of experiences, in a verse preparing the ground for confessions in the chorus.
Honoring their achievements, so inspired ballad Miracle combining melodious instrumental parts decorated with a majestic keyboard cover.
Carry On supports in all endeavors, inspiring sublime keyboards complementing guitar riffs in melodic dance.
The soft, melodic composition Angel Of Mine envelops with inspired musical charm, the guitar motif comes to the fore, the keyboards create a pensive background and complement the guitar motifs with bright ornaments. Keyboards come to the forefront of the musical idea, bringing a light futuristic and echoes of electronic impulses into the sound, in the chorus the name of the song Surrender is accentuated over and over again - adding that this sacrifice is brought by love Inspiration pours unrestrained flow, overflowing Keep The Fire Burning composition with bright images, creating an atmosphere of incredible support. A wave of impetuous drive Don't Be Too Late combines in its sound guitar, keyboards and vocal delights, completing the album, which left a pleasant impression.