December 24, 2021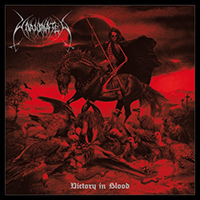 The title track begins the Unanimated - Victory in Blood album's musical narrative with an explosion of frenetic musical thriller, which then artistically and mesmerizingly adds musical originality. After a furious guitar intro, the Seven Mouths of Madness song then alternates again and again between music and vocals in the foreground of the musical image.
The As the Night Takes Us composition intrigues with the musical artistry of the introduction, suggesting an unexpected development of the musical procession. The Devil Rides Out soars in a whirlwind of frenetic and violent drive, taking you into a swift flight of musical frenzy.
Epic musical echoes of ancient sagas are embodied with soft vocal meditations in the sound of the With a Cold Embrace introduction, then developing to the full extent the laid down motives in the sound of the Demon Pact (Mysterium Tremendum) composition, violently and unrestrainedly exploding with the unity of drive and frenzy. The XIII thoughtful twilight anthem somewhat restrains the musical tempo in the introduction, intriguingly waiting for the vocals procession to join in. The musical frenzy is elevated by the fierce and deadly dance of the Scepter of Vengeance musical thriller.
The Chaos Ascends instrumental mystery of the chiming guitar solo acts as an introduction to the final chapter of the album, whipping up a furious whirlwind of The Golden Dawn of Murder frenetic drive. A drum roll sets the direction of the Divine Hunger sound. The Poetry of the Scarred Earth completes the album with a very multifaceted and peculiarly memorable sound.