June 30, 2021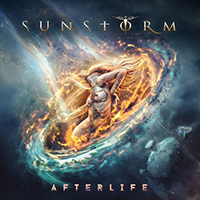 The title composition is brightly and emotionally starting the musical narration of the Sunstorm - Afterlife album, whimping the vocal inspiration by sparkling vortices of guitar riffs and the wrencie of the artistry of keyboards passages. The One Step Closer song continues the impression of musical artistry, focusing the musical essence in the romantic medium-level fairy tale with the vocal majorizing in the music form. An even more focusing musical building in the romantic atmosphere of the Swan Song composition displays the greatness of keyboards batches to the front plan of the musical image, creating a musical background by the bass guitars heartbeat.
Guitar riffs are weaving the fascinating drive of the Born Again musical passages, whining vocal reflections by sparkling tunnel of musical passages, complemented by charm of clafic symphony. The vocal party goes to the forefront of the musical image, the Stronger name of the name above is the banners of the chorus. The I Found a Way continues the sound of the previous composition with a more dense and rhythmic march, completing the epic procession of other musical shades.
The piano solo begins the musical sound of the Lost Forever saddleless ballads, anticipating vocal moans in the sorrows relative to lost opportunities. The Far from Over song impressively combines melodism and mannibility, fascinating in a trip through the haze of dreams and unclear images.
Guitar solo sets the path of the Here for You Tonight musical leitmotiff, then combined with the variable vocals experiences. After the intriguing mystery of the entry, the vocals part of the Darkest Night song enchants inspired artistry, anticipating the mysteriousness of A Story That You Can Tell final album's composition.