December 06, 2018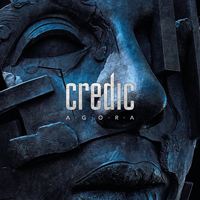 Instrumental introduction Revelation precedes the harsh and stubborn drive of the next track The Masquerade, which begins the true guise of the Credic - Agora album, combining vocal screaming and growling phrases and enveloping them with charming epic melodies.
Beginning with electronic echoes of the nearest discotheque, the Alternate Ending continues the medium-tempo reflections of the vocals, followed by a wave of screaming and growling and bringing screaming to the dominant position in the chorus.
Majestically and impressively, the Mind over Matter returns to the roots of the melodic death of metal, complementing them with more modern trends and progressive shades.
Beginning with majestic keyboard passages, the music lifts the narration to transcendental heights, returning again and again to the sound of the intro and enveloping the vocal narrative with musical covers and elevating The Eye of the Storm title in the chorus above the clouds of perception.
The epic story develops in a whirlwind of intriguing musical and vocal shades, rolling a wave of omens and elevating the name of the The Margins of Your Faith composition to the top of the chorus.
In the circular vortex of the Highspeed Claustrophobia main motive, it moves through the reflections of the verse, returning to the vortex again and again in the instrumental bridges. The prelude to the chorus freezes in thought, heightening intrigue and anticipation of any further changes. Then the vocals cast off the musical shackles in a thoughtful narration, culminating in a romantic spellbound guitar solo.
Leisurely and meaningfully playing a musical solitaire of entry, the music is transformed into a meaningful narration, recreating the reflection of the country in a musical image, then introducing waves of drive trends, weaving so different musical streams into a single fascinating narration of the Bring out Your Dead composition.
The Outbreak of the Unknown completes the album with an interweaving of wanderings in spicy oriental lands, progressive processing and epic waves of harsh drive.