June 06, 2022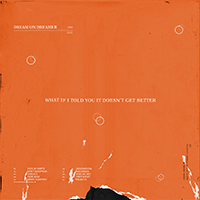 The vocal alternation and transformations of the Feel So Empty composition open the musical gates of the Dream On, Dreamer - What If I Told You It Doesn't Get Better album, then, after an intriguing introduction, rolling with the intriguing and persistent drive of the Don't Disappear battle march, bringing shades of reflection and thoughtfulness with the vocal narrative of the verse, returning to the combative pressure in the chorus. The directions and indignant cries of the introduction set the rebellious and unyielding nature of the sound of the Explicit composition.
The Fade Away song builds a musical composition based on the alternation of indignant harsh vocals and dreamy reflections of clean vocals. The fascinating sound of the Spirit Is Moving ballad fascinates with vocal reflections and a mysterious musical atmosphere, continuing the romantic sound in the musical narrative of the Sentimental spiritual anthem.
The sensual romanticism of the December song elevates inspired vocal reflections to the crests of musical waves, complementing them with whirlwinds of restrained drive in inspired musical impulses. The Who We Are composition fascinates with dreamy vocal reflections in a leisurely musical procession, enchanting with the significant solemnity of the sound of the First Light ballad and bringing notes of screeching and regret in the pensive sound of the Regrets final album's composition.