February 07, 2021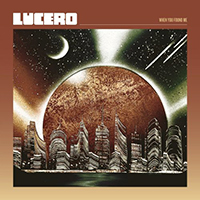 The Have You Lost Your Way? vocals intensify stubborn feelings, developing an atmosphere of vague doubts and obscure mystery. But doubts recede in the next composition Outrun the Moon, in which the vocals bring encouraging notes and, in unity with musical passages, complements the Lucero (USA) - When You Found Me album with notes of readiness for a trials. Musical reflections are carried away in memories of their native places, creating atmospheric shades inherent in groups of a similar style in the sound of Coffin Nails song. Further, the musical narration continues the painful melodies of the Pull Me Close Don't Let Go sad ballad, complementing the memories with sad notes.
The hopeful motives of the Good as Gone song carry you into the vastness of dreamy temptations, crowning the musical picture with a soft chime of keyboard and guitar notes. The sensuous sadness of the All My Life vocals phrases is intertwined in a captivating dance with the ringing of guitar strings. The Match bring vocals to the forefront of the musical image, complementing phrases with chimes and background keyboard tunes. Keyboard and guitar passages wrap around the Back in Ohio vocals narrative, bringing blues to the album's musical style, but leaning more towards southern rock.
The sublime chime of the guitar solo in the intro ends with A City on Fire romance with a tinge of melancholy contemplation, anticipating the sophisticated inspiration of the When You Found Me title track, that sounds as final composition of the album, an inspiring acoustic ballad.