May 29, 2020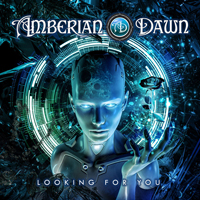 The whirlwind of the symphonic suite elevates the majestic reflections of the singing lady to transcendental passages in passages of keyboards, returning the symphony of entry into the United chorus with chorales on the background. The Eternal Fire Burning song's music as inspired keyboard symphony envelops vocal phrases with sparkling lace of sparkling musical melody.
The Amberian Dawn - Looking For You album's title composition facilitates the sound, recalling and embodying the shades of musical inspiration of the 70-80s of the heads of the last century, raising and emphasizing the name in the chorus. Two Blades continues the style of the title song, introducing notes of anxiety and anxiety through musical passages, weaving them in a thoughtful dance with vocals, which then brings inspiration and gives encouraging hopes.
Building a compositional structure on the dialogue of male and female vocals, the Symphony Nr. 1 Part 3 - Awakening (Feat. Fabio Lione) weaves their vocal phrases in a duet, sometimes exploding with a whirlwind of a rapid drive of musical power. Returning again to the disco music style, Go for a Ride rolls his way with pulsating musical sighs that recede before the charm of the vocal part. Flying away in a whirlwind of inspired musical tunes, the Butterfly vocals phrases captivate with romantic reflections, combined with the symphonic background of musical passages. The Universe romantic ballad mesmerizes with muffled vocal reflections, raising thoughts and emotions to the sky-high distances of incredible romanticism.
Embodying the inspiration of the group, teh Lay All Your Love on Me(ABBA cover) embodies its origin and pays tribute to the legends of music. The instrumental symphony Au Revoir, which captivates with the grandeur of musical melody, anticipates the Cherish My Memory (Re-Mastered) final composition of the album, completing this release with a bewitching waltz of vocal experiences and musical passages.