June 17, 2018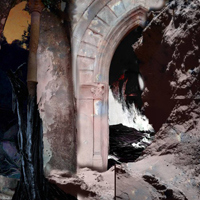 So dense, viscous, vague At Once The Vision And The Seer introduction precedes complex progressive spores of vocal tails opening the Wild Hunt - Afterdream Of The Reveller album with shades of oriental folklore, enigmatically and progressively twisting around the chosen axis. Waves of Odious Gamble romance with enchanting symphonic streams try to rescue vocal reflections, however, music in its progressive dance sweeps vague vocal urges, pensively and ornately choosing new and new ways.
Enchants a gentle guitar passage, concealing any emotions, evolving in an enchanted leisurely The Last Saeculum ballad that extols melodism above all, then the painful musical chains restrain the majestic melody in a single melodic impulse, but the Choir Of A Greater Sea melodic shrouds the vocal reflections with the streams of a bright drive, anticipating the development of the next composition, pushing and expanding the canons of the genre, as if continuing the previous composition Desiderium controls the heralds, bringing thoughts and tunes to everyone around - then sweeping away in the swift flow of melodic death metal music. However, this presentation sounds very fascinating and progressive.
The title track Afterdream Of The Reveller continues the sound of the previous introduction, exacerbating the filing of the entry into the unrestrained guitar tremolo. Voka compacts the sound and gives it shades and symphonic influence.
Unclear mysterious changes envelop the primary continuity of the Nest Of Flames composition, towards the end of the mysterious march developing in romantic reflections, Developing in the impetuous drive of the final composition Palingenesia of the album, sometimes mysteriously and progressively surreptitious open bewilderment before the vocal queries.