July 16, 2016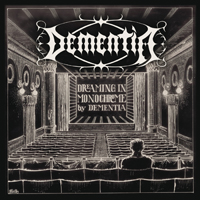 The colors dance, sparkle, vary - difficult to choose, not easy to select from a lot of them...argh! Perhaps, in order to avoid these complications - it is necessary to Dementia (DEU) - Dreaming In Monochrome ?
Darkness Rising merely begins, imperceptibly - no one can cease that! And then it surrounds us by its impulses and sounds from all sides, hear the screams, support them ... then in fetters of darkness and pain quietly and calmly listen to the neighbors and supports their prayers.
Dense blows, smashes consciousness into pieces - then keyboards penetrate the canvas by edges of their passages, vocals helps that tries. Ghosts dance and fly around, they not chained to a planar substrate - so rushing, hovering! Powerful, furiously flying Abyssal Fall on the wings of revenge to the taste of hate. But the keyboard is surrounded by notes of mirrors and crystal chimes, eliminating the fury and stopping the angry outbursts. But the rage is gone, only to make a break - to fill the power and strength in the new rush to the thoughtless fit of destruction! Shatter! To split up ! Kill!
Dreamy clean vocals interested in sublime guitar, they jointly opened the way for the embittered growling, emphasizing melody entry by its severity. But this does not limit the diversity of the Monologue, which plays cranes, reflecting the rays of the anger and hatred, and the dreamy reverie, the temper and malice, the hills and lyricism.
Spinning reel of the film projector, next ccurtain rose. Symphony Orchestra begins promotion of the title track - Dreaming In Monochrome colors dreams not in various colors, but enhances them in different sounds. Guitars sounds like enchanting fairytale creatures, keyboard echo them, improvising like faeries wings. After furious faceted melody and power of augmented magic - Elf tells his story, quiet, calm, thoughtful, balanced. Further experiments - elven chronicle crossed with stormy power, trying the cases - that prevails or another one. But - the film in the projector ended - the curtain falls!