October 31, 2020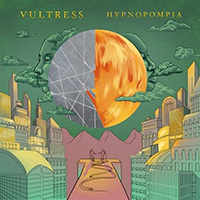 The Hypnopompia title track's music envelops the lace of a majestic symphony, creating a mysterious intrigue in the introduction. But the Cmdr Hall And Wherewithal vocals disperse the musical atmosphere and combine gentle melodies with progressive guitar passages in the atmosphere of a romantic ballad, then raising the banners of sensuality. But then the vocals bring the harsh severity with a few phrases and the atmosphere of doubt and emotion, creating a very multifaceted musical picture of the Vultress - Hypnopompia album.
The Tether intro guitar passages create an intellectual atmosphere of incredibly progressive musical sound, then the vocals rise up in controversy and disagreement. But then an orchestral symphony emerges in the musical atmosphere, continuing with the amalgamation of progressive musical variations and a romantic lounge in which the return of arguing vocals heralds an inspired trumpet solo. Musical passages of the Fall Into Then composition pump up sparkling waves of mid-tempo drive, crowned with vocal inspiration, sometimes complementing the main vocals with backing vocals. These elements are covered with a mesmerizing lace of keyboard symophony.
The soft ringing of guitar strings is combined with vocal phrases in the delicate lace of the L'appel Du Vide romantic ballad, enveloping in the sparkling charm of sensual experiences and pacification of the tranquility of the homeland. Musical passages wrap vocal phrases with variations of progressive notes, bringing the influences of an epic symphony to the instrumental bridges. Then the musical narration with a vocal part is transformed by impetuous haste. In the middle of the composition, the music transforms into a mysterious enigma with distorted vocal phrases, then pulsating with the echoes of mesmerizing fairy tales, anticipating jazz improvisation of trumpets with notes of mystical mysteries. Yes, perhaps the final composition of the album New Sun supplemented and surpassed all its diversity in its sound.