October 04, 2017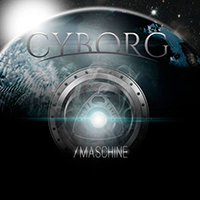 Without the slightest twinge of conscience, thoughts about the past and future Stahl und Fleisch (feat. Marcos Rodriguez) opens the Cyborg (DEU) - /Maschine album. No doubt, the rest of the songs are worthy, but this one is a kind of uniqueness! Power and energy Sonnenkind are unhurried, restrained, but sometimes hide in energetic, dances all around.
Thoughtful, unhurried reflections Lebensecht continue the past dances. But at the disco, nobody is allowed to drip - we dance, we cut ourselves, we will find the worthlessto it!
Rage, power, anger, takes in Cybermacht, not accepting the fear or any kind of the reproach.
Just that kind, nothing else!
Oh, these are your disco motives, but the power and energy breaks in here in Cyborg ladt... irresistible stream of musical extravaganza!
The thoughtful beginning, the restrained motives outline starting Blau am Himmel, the cardan cuts down the power of the shock extravaganza, the vocals follow her in a male and female duet.
Pulsatingly motifs of vocal phrases Mensch // Maschine (feat. D0M), then combined with musical motifs. But the reflections come back again and again.
Pulsing in a pensive hypostasis, the thought, thinks, reflects. Then the Sternenschwarz vocals brings power and fury, however, at the same average pace, creating a kind of furious ballad.
Quickly and ingenuously Mein neues Hertz displays his vices, but they are so diverse and unpredictable - you have to listen to it to understand!
The train station, transfer to another train, voice-over of phrases creates Raumhafen Orion for all calls.
The ballad that you want to hear again and again Raumzeit enveloping thoughts, thoughts and feelings. But to survive it again is worth listening. Again and again! Back in USSR?! NO! Not for any nanner! U.S.S. Ikarus appealing to the past, however it sounds very, very interesting, crowning the album is charming and delightful!.