June 19, 2018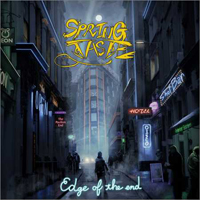 Shooting, the battle and pensive passages precede a dense The Mission sound, the beginning of the Spring Taste - Edge Of The End album with the heavy, intricate musical changes that bind the vocal reflections with painful musical meditations.
The Scare the Power introduction refers to a wave of impetuous drive, but the vocals return an atmosphere of mysterious meditations, from which the instrumental stream tends to escape again and again.
Beginning with painful, sophisticated reflections, Lion continues with an inspired wave of romantic ballad. But painful and thoughtful reflections come back again, intertwining with the inspired explosions of the musical extravaganza.
Thoughtful reflections are swept with sonorous motifs of the verse, from time to time drawing the music into the cogitations of thought, but in the choruses bursting into an impetuous submission of all Built on Death comrades-in-arms.
The notes of vocal recitative bring shades of a different style, combining several musical genres into Lucky Slave composition.
Returning half a century ago, Own & Obey envelops the viscous whirlwinds of southern rock, introducing shades and aspirations of other styles.
The unhurried notes of traditional rock are combined with Anarchrist vocal reflections, unhurriedly and confidently untwisting the flywheel of the composition, without departing from the chosen direction.
Continuing the selected stylistic direction Wild Animal brings the vocals to the forefront of the musical image, completing the album with the dominant vocal.