April 16, 2019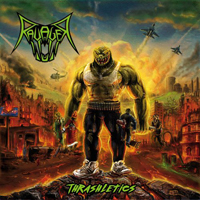 A soft, thoughtful guitar solo of the Descending Dawn instrumental intro suggests reflections on the fate of the world. But then the Ravager (DEU) - Thrashletics album sweeps up a whirlwind of fierce drive, vocals pump up irritated anger. In the chorus of the Mindblender song, the guitars bring a touch of inspired melody, bringing in some nuances of rebellion and outrage.
The musical artwork continues with the title composition Thrashletics (Out of Hell), which throws up a bright dance of deadly whirlwinds, ending with the vocal anthem of the 1st verse. Then the music returns to the motives of the introduction, speeding them up and pumping the furious waves of the drive, besides diversifying the vocal part and bringing in more and more new musical trends.
Then the vocals come to the fore, the pastor broadcasts Society of Blunted State sermon, from time to time supported by the choir of adepts. The fascinating guitar solo of the Dysphoria introduction takes the thoughts high, but then the vocals return the dominant role in the musical image carried away by the rapid fog of the thrashing drive.
The trial, the accused is broadcasting that he did not kill anyone, did not participate in a single murder and is in no way involved in such a thing. Then follows a guitar solo of a majestic celebration, ending with the gloomy motifs of the Slaughter of Innocents mid-tempo march. But the prosecutor indignantly lists the horrific murders and war horrors that the accused caused - and the crowd in the hall angrily stigmatizes the criminal.
The pulsing motive of the couplet envelops vocal reflections with musical doubt, then Pit Stop ... Don´t Stop In The Pit ! emphasizes the title in the chorus again and again.
The furious drive of the Kill for Nothing verses and the gloomy thoughtfulness of the instrumental bridges culminates in the cunning playfulness of the chorus explaining the rage and anger of the couplets.
The gloomy introduction of perhaps the most successful composition of the album Dead Future fascinates with forebodings of gloomy events, then the musical drive flies away into a whirlwind of anxiety and anxiety. In the chorus detachment and despair rises to a new level. A guitar solo similar to the intro ends the song and album.