January 16, 2020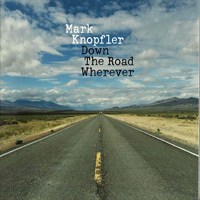 The leisurely Trapper Man narration of the bard about wanderings with a soft and laid-back musical narrative opens the gates of the Mark Knopfler - Down The Road Whereve (deluxe edition) album. Back On The Dance Floor continues the musical narration with leisurely thoughtfulness, introducing vague doubts of vocal experiences. Acoustic guitar gives some notes of saddened romanticism, enveloping Nobody's Child tale with a notes of sadness and anxiety. The vocal part raises the key, giving the impression of a female re-singing.
The style of the blues comes to the forefront of the musical image of the Just A Boy Away From Home song. Wind instruments and keyboard symphony bring to the When You Leave romance sound based on the lounge notes of romantic chanson. Charming with the guitar solo of the introduction and again and again returning to it, Good On You Son brings the vocal part to the front edge of the musical image. My Bacon Roll vocals captivates with saddened thoughts, enveloping saddened emotional experiences.
Returning again to the wandering mood, keyboards passages and trumpets solo artistically crown the Nobody Does That vocals phrases, complementing the main vocals with female re-singing. The pensive sadness of the wandering bard leisurely and twilight envelops two vocals, intertwined in the Drovers' Road vocal part, with an unclear mystery.
Dispelling a sad atmosphere with a certain playfulness, One Song At A Time at the same time preserves the artistry of sophisticated thoughtfulness. Romantic thoughtfulness is mesmerizing with the sound of the Floating Away soothing ballad that weaves together female and male vocals in a vocal part. Vocal phrases alternate with mesmerizing trumpet solos, speaking to the forefront of the Slow Learner musical image with a soft soothing background.
Keeping the atmosphere of light jazz and lounge Heavy Up song's sound fulfills with a potion revitalizing inspiration. Every Heart In The Room sounds in the same style, weaving guitar solos in the mesmerizing charm of soft dance. Giving the sound some notes of drive Rear View Mirror weaves together tapes of folklore influences and improvisation of jazz charm. Matchstick Man concludes the album with a pacifying country style, dispelling any worries and wrapping up memories of one's native places.