February 01, 2018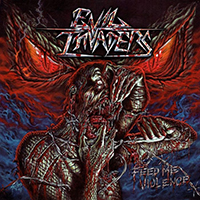 The mysterious guitar solo creates an indescribable extravaganza for Mental Penitentiary intro, then the vocals set the accents and priorities, clearly and unconditionally dominating the musical image of the first track of Evil Invaders - Feed Me Violence album.
Twilight riff creates a gloomy mood for the As Life Slowly Fades introduction, a furious guitar solo complements it with swift passages and fighting spirit, then the vocal is headed by this procession, sweeping the barriers from the chosen path.
The mysterious twilight mist of instrumental intro Suspended Reanimation precedes the development of Broken Dreams In Isolation as the romantic ballad in which the vocals bring a touch of extreme emotionality, reflecting on their feelings and emotions in the enchanting musical environment. After the instrumental part, romantic reflections with a fascinating musical accompaniment explode with a frenzied drive that sweeps everything around the stream of musical rage that embodies frenzy and destructive energy, but so marvelous romance completes the composition.
Reflections and feelings are transformed into a battle drive of the title track Feed Me Violence, winding melodic musical passages on the sharpened axis of the piercing motive. In the instrumental part that precedes the finishing passage, a wonderful unforgettable melody arises, culminating in a furious finish.
The enchanting motive, bringing a shade of oriental spices and ballads of wandering bards, embodies the charm of adventure romance, starting with the Oblivion introduction as so exciting and soulful ballad. But the melody preserving the bright and exciting melodies in the verse is transformed into a fast drive.
A marvelous instrumental symphony Shades Of Solitude introduces an atmosphere of medieval mysteries by its fabulous guitars and keyboards motifs.
Anger Within dancing in unrestrained dance, the impetuous and hurried motive unrestrainedly rushes to the achievement of goals and the embodiment of aspirations. In the instrumental part, fairytale romance recalls the minstrel sagas, returning from unforgettable unforgettable romantic feelings, culminating in a dense and powerful instrumental stream of unrestrained drive, adorned with a bright guitar solo.
Mysterious mystical intriguing motives creates a fascinating atmosphere Among The Depths Of Sanity in which rapid instrumental passages are intertwined, floridly and complexly forming a single musical image, rapidly blending in an indescribable vortex. Then again, the marvelous romance is thoughtfully wrapped in an illusory fog that sweeps out a fast-paced guitar solo that raises melodism to an incredible level of perception, completing the composition on it. The completion of the album is confirmed by a swift and emotional vocal party, riding this illusory griffin.