September 17, 2017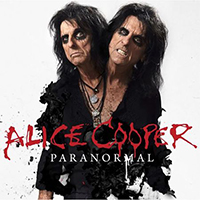 Youth spirit, irresistibly sweeps in the title track of the Alice Cooper - Paranormal (CD 1) album, enveloping the fog of uncertainty and ambiguity.
Dead Flies complements the sound of a blend of blues, making you think about the experiences.
Again, the young spirit of rock'n'roll sweeps with Fireball sound all around to the sky over the clouds.
Pulsating in exciting strokes, Paranoiac Personality extols the cyclical march, rolling the farther and farther the chosen path.
What are there 5-10 years ago - there's no use - turn back for a half of century ago! Fallen In Love tells all of us - that long live rock'n'roll!
After the brief preparation, power and drive of Dynamite Road plunges us to the wasteland of so hot desert, enveloping the hot and dry winds.
The power, confidence and insurmountability of Private Public Breakdown march overthrows everything in its path. Without doubt and regret! All aside! Forward, only forward!
Notches of different styles gives youth and energy with Holy Water music, inspiring without rest and reflection to go further and further, more and more!
Crush Rats! Destroy! Harshly, quickly, swiftly - to crush, to kill, to strangle, to plague! ALL OF THEM!
The end of the album brings a bit of thoughtfulness, reflection - the inspired ballad The Sound of A creates an atmosphere of memories of the past, the past and the prophecy of future events.
Another artworck of this digipack Alice Cooper - Paranormal (CD 2) recalls the best, unforgettable and unique songs in live performances. It's hard to advise them to remember - they are unforgettable and it's impossible to forget them! Never and never! !