December 02, 2017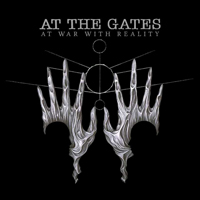 The sermon in Spanish El Altar Del Dios Desconocido, which indicates - what is sin first, secondly, and the growing emotional content of the sermon grows into the introduction of the next composition, which, in fact, begins the At The Gates - At War With Reality album in a violent alliance of melody and drive. In the introduction and the verse, the drama dominates, in the chorus the lyrical melody ascends to the musical throne.
Breathtaking mystical prophecies melody Death And The Labyrinth pierces the sound of the main motive, in bridges terrible severe kinks terrify, but the instrumental part inspires an unforgettable guitar solo, repeated in the chorus.
In the title track At War With Reality, looking for a more vivid motive sparkles in the guitar riffs, carrying the flag of the squad of their knights through all the battles. In the bridge, darkness clubs reappear, but the next verse dissipates the gloomy spells and the refrain raises up courage to the heavens.
But the evil creatures do not retreat, they only regroup their forces in a gloomy fog, enveloping the whirlwind of anxious guitar riffs The Circular Ruins sound. But again the light guitar riff sweeps the flaming sword of retribution in the chorus.
The fog creeps in with an intriguing introduction, but then the heroes enter into the atmosphere of the cemetery horror, presenting before the test Heroes And Tombs, which they simply have to accomplish.
The keynote creates the main path, the The Conspiracy Of The Blind melody scrolls around in a variety of variations, supplementing the vocal phrases and music with notes of intriguing mysticism.
Dark dense and inexorable march Order From Chaos after a misty introduction, passing into a brooding lyrical melody, rolls with gloomy waves connected by the vocal.
The Book Of Sand (The Abomination) continues this mysterious part, in verses sweeping streams of furious drive, in breeches enveloping music with an intriguing fog that passes through the chorus.
Then follows a couple of bonus tracks - first The Language Of The Dead (Bonus Track), carrying a bright stream of uncontrollable musical passages, then The Skin Of A Fire (Bonus Track) intriguing with calm mysterious introduction, turning into a harsh and uncompromising ballad.
Ancient legends about The Head Of The Hydra continues to twirl in the gloomy fog, but the drive of the story unrestrainedly bears their stories through the ages.
Starting in the lyric haze of a romantic night City Of Mirrors sound as the cryptic instrumental saga, Eater Of Gods brings down on us a wave of violent drive, sweeping away divine essences in impetuous rushes. The instrumental part brings an unforgettable melody to this gloomy battle, fully depicting the charm of music. Music brings a more confident pace, Upon Pillars Of Dust confirms their importance and inevitability.
Full of lyrical romanticism, The Night Eternal composition completes the album, at an average pace bringing the stories to completion, but the melody clearly dominates this narrative.