September 11, 2016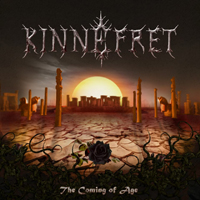 We have to be ready for unbounded wisdom and brute engage of Kinnefret - The Coming Of Age .
Mysterious distant howling of the wind, combined with mysterious sounds causes the Awakening.
Waking up in violent gusts scatter all around - we dreamed like Victim Eyes. The grim stories combine its impulses screaming and growling vocal style blends both of these, in the middle of the slope to the narrative melodic growl, followed by a lyrical guitar bridge. Then returns to the topical speed.
A fabulous guitar fingering brightens with its melodious notes of chords ornaments decorating the introduction of the Losing Grips To Gain Grips, after which the soldiers of darkness strikes a fierce battle, showing dark anger, rage and sparkling unbridled power. Then screaming and growling are competing for the main motif, alternating their impulses in the foreground. Growling phrases, after a brief respite, explode with rabies waves, then re-arranging respite. So again and again!
With impetuous gallop a lather horse carries The Warrior to his impending fights, battles he is intended to which. The powerful and aggressive music can't hide championship banner that flutters as tune of the sublime leitmitif from all of us.
Circulation of jerks and angry thoughts indicates that this problem extremely requires Salvation. So that tale combines fast agressive riffs and lyrical melodical vortexes.
Single bard in guitar melody recalls the years of wandering, wonderful moments and emotional palette of impressions - then story A Far Cry For Freedom tightens and raise its power with furious blasts. The crowd screams in the chorus of past years and the expectation, this is followed by an amazing, beautiful and memorable guitar solo.
It carries melodies familiar in ages, on wings of unrecognized ghostly legends - Bleed Out The Sickness should be eliminated and never will happens again!
Paving a path impetuously destroying obstacles the intro of the Eternal Damnation becomes the main motive for his brooding melodic satisfied respites, alternating between the screaming and growling vocals.
The sublime lyrical guitar motifs combined their sound with peaks of medical device, announcing that the Death (Instrumental) somewhere beside for all of us.
Hastily The Prophets announce their prophecies, not allowing the challenge and doubt, they are screaming herald the future destinies and events. Then, growling dilutes the unbridled haste dense and powerful sound. By this he refers to its dominant position. Title track Coming Of Age completes the entire album, with a brief melodic guitar fingering wich ends with howling wind.