December 01, 2019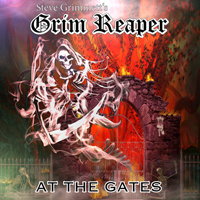 The epic twilight of the entry envelops the beginning of the title track of the Steve Grimmett's Grim Reaper - At the Gates album with an anticipation of mystical mystery, rolling intriguing twilight through the vocal part of the verse, but emphasizing the name of the composition and album with inspired proud phrases. The fierce musical canvas Venom becomes harsher and more poisonous, introducing vocal phrases with a more varied knowledge of mystical secrets and introducing bright bursts of guitar solos.
Striving for a speedy introduction and couplet, What Lies Beneath raises banners with its meaning in the choruses, introducing pensive questions into the bridges that precede them. The guitar riff of the introduction intensifies the intrigue, setting the direction for the sound of the main motive and becoming the foundation of the The Hand That Rocks the Cradle composition. Again the introduction sets the supposed style of the A Knock at the Door song, combining a proud march with a majestic anthem of military prowess.
Discarding thoughtfulness and concentration Rush sweeps by a swift whirlwind of a driving action movie, lifting up the chorus with bewitching guitar solos. Continuing the whirlwinds of the drive, the guitar passages encircle vocal phrases, raising the Only When I Sleep title with a chorus spiral and sparkling with mesmerizing solos of the instrumental part.
Dancing around the axis of the main motive, the Line Them Up composition, with music and lyrics, spirals through the musical expanse. After a thoughtful and melodic guitar solo introduction, the vocal part comes to the forefront of the musical image of the Breakneck Speed song.
Returning to the bright driving motives, Under the Hammer brings the verse with exciting motives to the chorus, again and again emphasizing the name in it. Silent chorales end with the mystical atmosphere of epic musical passages, completing the album with the inspiration of the Shadow in the Dark bewitching fairy tale.