February 01, 2019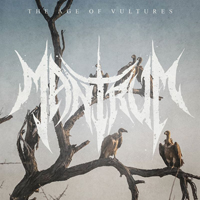 The viscous atmosphere of the Enter The Void intro intrigues, introducing progressive trends in the musical hypostasis and enveloping the beginning of the Mantrum - The Age Of Vultures album with mysterious echoes of ancient fairy tales, contending time and space.
Fabulous influences are filled with gloomy omens, but the epic narrative as if the legends of warlocks raise legends about dark charms, bringing the Trail Of Doom into the musical image of the album.
The Metamorphosis main motive rolls in waves of dark triumph, shackling resistance by the bonds of a sticky viscous musical triumph. Then the changeable composition pulses with a mid-tempo march in a couplet, emphasizing Slaves To The System title in the chorus, combining the gloomy reflections of the couplets and the magnificent hymn of the choruses together.
Furious drive flows envelop the Inferno intro with waves of anger, then enchanting guitar solos entangle the narrative with epic influences, bringing a touch of oriental folklore. The vocal joining unites these phenomena together, combining the furious drive of the verses with the epic charm of the choruses.
Epic whirlwind of the main motive envelops As Forces Collide vocal phrases with sparkling trend of fantastic impulses, then again and again transforming the rhythm and melody of the narrative in bridges and parts, creating such a diverse and fascinating composition. Ode To Misery continues the epic narrative, elevating the odes to the unforgettable heroes, pulsing with the echoes of past eras, reappearing in memories of epic acts. The pulsating hymn is enveloped in the epic atmosphere of the trends of ancient legends, seasoned with epic echoes of folk influences.
A significant celebration rolls over the shroud of the Lost majestic anthem, then inspires with meaningful reflections in a leisurely manner bordering on a ballad in a confident narration, from time to time forcing explosions of a rapid pace.
Intriguingly throwing himself from side to side, Vampirism then envelops in a whirlwind of seductive twilight, bringing the wave of experiences with a vocal part and returning to the gloomy seductions in the instrumental bridges and chorus.
A tight, viscous and irresistible flow of music envelops the viscous veil of undeniable shroud, indestructibly creating lace fascinating motif around Praise The Paradox vocal reflections. My Demise completes the album, partly continuing the previous composition, but transforming gloomy experiences with sparkling inspiration.