October 05, 2017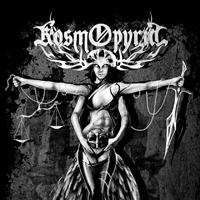 Pulsating electronic motifs begin Ungewiss, opening the gates of the album Kosmopyria - Sinister with vibrant melodies capturing a whirlwind of delightful dance.
Exciting composition Primary Fight, its main motive so irresistibly charming, unrestrained and unrepeatable begins the English-speaking part of the album. Dancing moves Lord Chaos along his path, continuing the English-language lyrics. In the verse, screeching dominates, in the choruses growling and a choir of companions on the background comes to the fore of the musical canvas.
Sly drive, broken rhythms precedes the symphonic part with whispering scramming in Ein ewiger Kreis intro, but then drive and growling take their own, although the screaming and symphony do not stop arguing, now in German lyrics.
In the pub in Bavaria or Ireland, the spree develops swiftly, everyone celebrates their exploits, absolutely not embarrassed to exaggerate and multiply out of favor, because The Barrel Of Solution will solve all issues, conflicts and disputes.
The bass guitar solo starts Bis zum Ende, sets the further development of the motif, which brings the spirit of the cabaret and some shades of the operetta.
The soft and gentle passage of the piano creates a lyrical atmosphere of Offenbarung intro, then rises over the music like a bright sparkling haze. This fog brings shades of medieval minstrel ballads, turning them into instrumental parts into progressive festivals of instrumental frills, continuing their debating of screaming and growling in vocals.
Fall der Fahnen сompletes album, symphonically and progressively creating an amazing and delightful composition that combines melody and drive, juggling with bright motifs and often changing the tempo..