July 31, 2020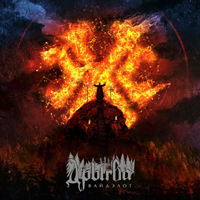 The charm of folk motives is carried away into the Вогнепаклоннiк limits of dreams, but then Варагi vocals rage carries away into an unrestrained dance of furious drive, anticipating the influence of the Кругsi на Вадзе (feat. Мария Архипова) guest vocalist on the musical image, captivating with the frantic inspiration of the Дрыгва - Вайдэлот album.
Pulsing with impatient drive, the Барабан dance of musical frenzy takes vocal experiences to the top of its round dance. The Брацтва ballad charm and thoughtfulness of a musical symphony marches along the edge of a mid-tempo march, hardening the sound with the clarity of vocal scream growling. The Калi Прыйдзе Свiтанак continues the greatness set by the previous composition in a majestic anthem, adding bitterness with vocal indignation and explosions of musical drive.
Nervousness and despair Сонца Заходзiць alternates into a unity of jets of violent drive and severe melody, entwined with ribbons of folklore inspiration. The Вайдэлот title track closes the album with mesmerizing tunes of Belarusian speech.