June 29, 2017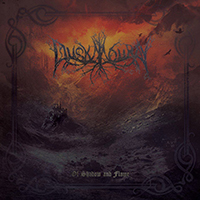 Listening to this album Duskmourn - Of Shadow And Flame - as if returned for 10-20 years, in the mid-90's! When this style only gained momentum, attracted new fans, accumulated energy and strength!
The introduction of album as Ancient Whispers sets howling winds, gathering and noise training only accumulates the desire for the road.
Through the Wild begins the embodiment of these aspirations, furiously and sultryly demanding the incarnation of these! Epic power, restrained, but clear and confident drive does not allow to doubt its proud sounding.
The collections need speed, energy and haste, The Frozen Mire embodies these features, combining them with a frosty chime. Proudly, solemnly launching Where Shadows Lurk recalls the introduction and the following composition. But the main motive captures consciousness in a combination of melodies, shimmering with bright brilliant delights ... ah, many words! It is necessary to sweeten to accept for yourself! Power, drive, battle - Mountains of Darkness does not allow raslabitsya, discarding, but not blaming melodiousness - power and drive only extol! The fire is on fire ... not for long, power and fury are born in the fire, they always and forever! The Last Voyage completes the album - for some reason, it seems to me conceptual. And - completes, like a separate album - changing the structure of the composition, melodic shades. Although, one way or another perceived, like a legendary bard saga, one way or another! After several auditions, this saga has not yet been imprinted into consciousness. Well - we will listen again and again!