March 30, 2017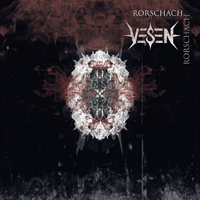 Psychology is a complicated science, incomprehensible and peculiar. But Vesen - Rorschach series of tests puts some of the figures in their cells in the games of the mind!
Powerful and viscous beginning, with the introduction of the vocal Damnation Path rushes into a rushing run, carrying doubts away with the unrestrained snatch of stunning rage.
The whirlwind of the Pray For Fire main motive circulates in the dance of a changeable and vivid obsession.
Prepare, aim, get ready - fire! Target: Horizon you need to hit, suddenly and rapidly, accurately, and without question!
The drum roll creates the basis for the evil, gloomy march of evil spawns, worshiping Satans Synder, they are singing praises and admiration for their ideological idol with the dark, rasping phrases.
Proudly, sharp, ornate Blood, Bones And Pride in the whirlwinds of instrumental moves surrounds vocal phrases with gloomy, mysterious fog, it's hiding the solemnity of future accomplishments.
Exactly, impetuously and swiftly flies tale about the legendary Crown Of Scars, capturing the mind, capturing a brief and exquisite guitar solo remnants of consciousness, concluding with the same sharp desire Vulgar, Old And Sick Blasphemy covers hazy guitar riffs, vocal phrases appear like ghostly spirits among the impenetrable mist of darkness and horror of the abyss of the cursed eternity.
A sharp, impetuous rush, vocal hastily indicates that All In Vain. Gloomy, melodic guitar motifs underscore the hopeless essence of rejected desires, unreasonable loneliness and a heavy burden of sad thoughts. Vocal laments about Away The Tormentor, darkness envelops from all sides with the clubs of black haze, enveloping comprehensively and fully. Final Insult completing the album with swift, uncompromising and furious motives, the vocals echo them with its confident and nervous sounding.