November 22, 2019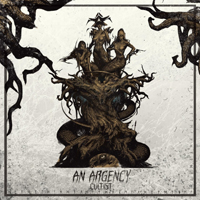 The twilight sacrament of the mystical atmosphere Set the Cult as intriguing introduction to the beginning of the An Argency - Cultist album, then developing the motives laid down in it in the brooding romance of title track, bringing the twilight melody to the fore and rolling medium-temperate waves of restrained drive. Then the Havoc pumps the waves of a more driving musical entity, crowning the rapid whirlwinds of a furious drive with echoes of the choruses emotional melody with clean vocals chants.
Then the charm of the Demise ballad's romantic tunes is enriched by charming tunes of clean vocals, entwined with a muffled chime of guitar strings in verses and an uplifting whirlwind of inspired chorus motifs. Continuing the musical narration with the rhythmic waves of a harsh march, the vocals of Flag song alternates and combine severe growling with dreamy tunes of clean vocals.
The inspiration of the charming tunes of the Lines ballad continues the album, bringing to the front edge of the musical image the main motive, wrapping it in an alternation of vocal styles. Backbone retains an epic charm and a leisurely procession on the verge of an average pace, but the verses vocal hardened to a severe growling in the verse, stepping aside for thoughtful choruses chants.
Slightly expanding the stylistic framework of the album, Podpishis turns the musical stylistics into a more modernist channel, moving into the vocal part in Russian-language lyrics and alternating in the recitative clean vocals and growling. Six Feet preserves the lyrical component of emotional experiences, rolling in the harsh waves of a mid-tempo march, combining clean vocals and shades of harsh in vocal phrases, uplifting romantic tunes of clean vocals in the chorus.
ColdbonesVocal variations intertwine in the enchanting lace of the alloy of many musical styles, returning to the motives of joining the romantic chorus of the chorus. Rot completes the album, returning to the mystical twilight of an obscure mystery, but again lifting up the tunes of clean vocals in the chorus.